Clare Herald July 22nd ,2015
It's been another successful year for the pair of White Tailed Sea Eagles named Caimin and Saoirse, as this years' chick fledges the nest, from an Island close to Mountshannon Harbour.
At just over 12 weeks old the female chick after several days of flapping and stretching her wings in preparation for her first flight, and with the encouragement of her proud parents, finally took to the skies over Lough Derg during the past week.
This chick is the third brood for the "star pair" since they first made history back in April 2013 for successfully hatching and rearing chicks to fledge a nest in the wild for over 110 years in Ireland.
Last year they had one chick a female named Aoibheall. Although the 2014 chick fledged the nest in late July she primarily stayed close by the nesting Island until December, when she started to steadily move further up Lough Derg and the midlands. Prior to fledging she was fitted with a satellite transmitter by Dr. Allan Mee Project Manager of the White Tailed Sea Eagle Reintroduction Program which was licensed by the National Parks and Wildlife Services.
The transmitter allowed Allan Mee to monitor her movements. However in early Springtime of this year following the last recording of her movement in Lough Ree, Co. Longford the transmitter was located on the ground, detached from the bird. According to Dr. Mee of the Golden Eagle Trust, the transmitter happened to somehow fall off Aoibheall and was located shortly after the reading remained static. The chick can now only be recognised by her orange wing tag and although there are no recent sightings of her and hope remains that she is safe. The located transmitter is now reused on this year's chick.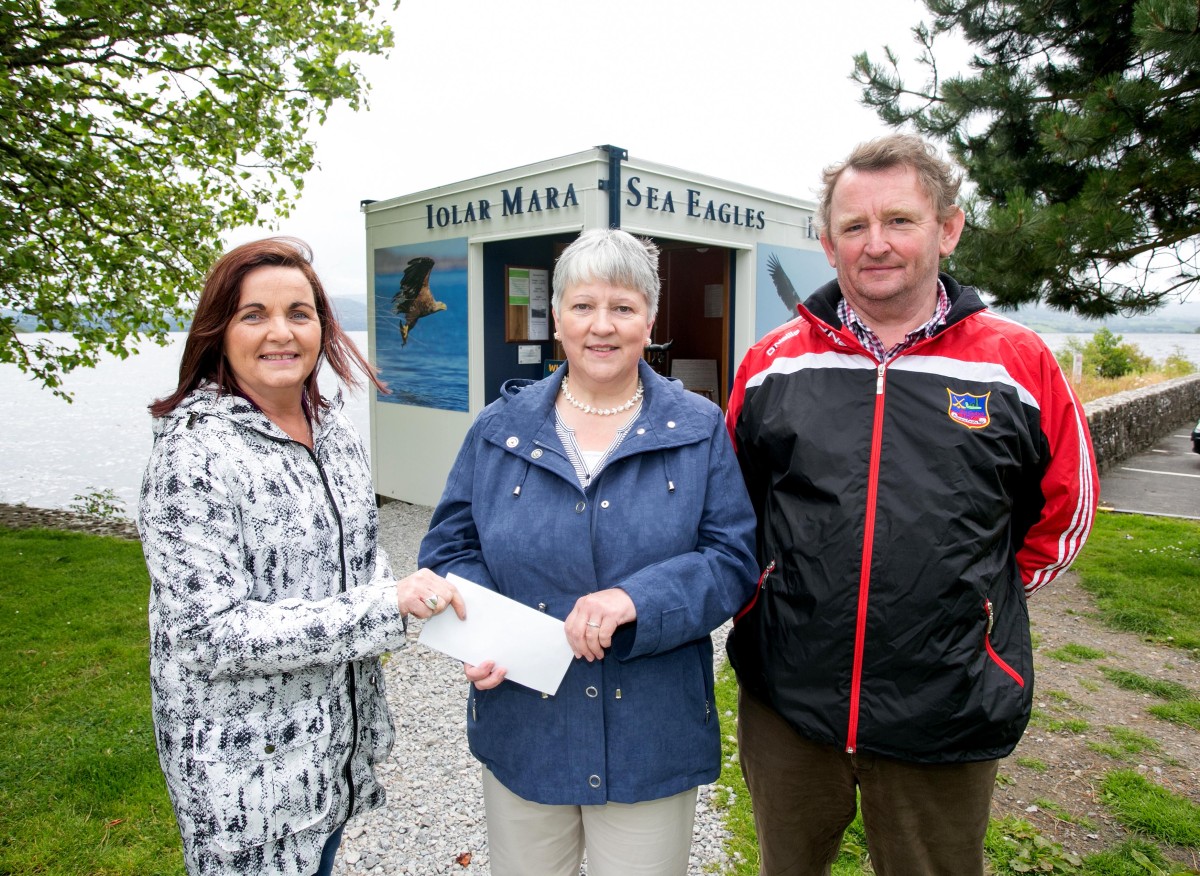 Mountshannon's local Eagle Group in conjunction with the Mountshannon Community Council and the Golden Eagle Trust ran a competition on their  Facebook page to name this year's chick. Maureen Devanny from Mountshannon is the lucky winner of a cash prize of €100 for her chosen name Cealtra.  Cealtra from the name Inis Cealtra – Holy Island because of its significance to the area, as this year the Island changed to public ownership for the first time.
The Bird Viewing and Information Point at Mountshannon Harbour is proving to be a major tourist attraction, as visitors flock to the local area in the hope to getting a glimpse of these magnificent Birds of Prey. Telescopes are provided free of charge for visitors to view the eagles. Staff is at hand to meet and greet visitors, and to give an updated account of the Eagles and the Chick on a daily basis.